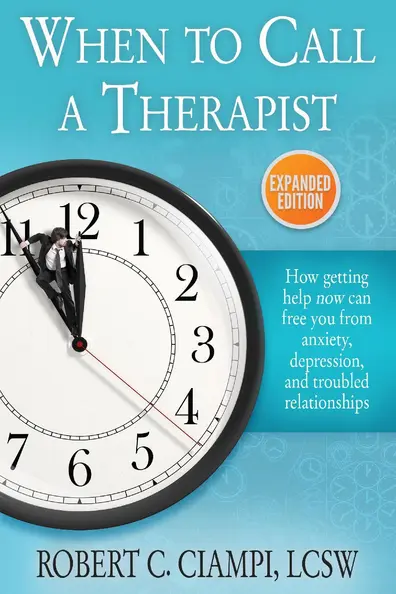 When to Call a Therapist Expanded Edition with more information and a new chapter on bipolar disorder (ISBN: 9781949165319):
Whether it's due to fear about asking for help, feeling overwhelmed by which type of help to get, or simply a lack of awareness that their symptoms are danger signs, many people wait far too long to get support when problems crop up.
Frequently, couples enter therapy as a last-ditch effort to save their relationship. Those dealing with anxiety wait until they start fearing the fear itself or develop unhealthy coping strategies. People with substance use disorder wait until they hit "rock bottom." And those suffering from prolonged depression lose the energy or will to seek the help they need.
When to Call a Therapist outlines the symptoms and behaviors of the most common mental-health issues people suffer from, as well as when and how to seek help. This book will help you overcome roadblocks to getting treatment by teaching you to recognize:
The symptoms of anxiety and panic attacks and how to prevent them from hijacking your life
When it's "the blues" versus serious depression
The signs of a relationship in trouble and how a therapist can help you repair the damage or work through difficult decisions
What unhealthy coping strategies look like and what to do instead
When you're facing abuse, neglect, or serious red flags and how to get help
How assertiveness and setting healthy boundaries create freedom

Get past damaging, counter-intuitive thinking ("I'm too anxious or sad to talk to someone") and other barriers to healing. Seeking therapy sooner can help you work through issues before they turn into serious problems. Open these pages and take control of your life today!
"Robert's book offers the reader valuable information that...answers questions people...have about how the therapeutic process works. [Clearly there are …benefits to getting help] sooner rather than later . A must read!" Margaret Debrot, LCSW, PsyA